Getting Back to Living Your Life!
Minimally Invasive Spine Surgery at PMC
Pinpoint Accuracy. Small Incisions. Faster Recovery.
ime to get back to being you. Get back to being able to live your life, free of pain. The Spine Specialists at PMC provide the latest technologies to provide and promote healing in our boutique, quiet hospital setting. Voted as one of Indiana's top hospitals, PMC is your best surgical option.
We provide progressive evaluation and treatment solutions to meet your individual Orthopedic spine care needs. Our practice blends the latest technologies with outstanding surgical skills to produce the best results possible.
Patients receive an in-depth professional evaluation based on careful assessment of their complaints and an interpretation of their tests. Our goal is to provide you with the optimal treatment plan uniquely tailored for your specific needs.
Like you, our goal is to get you back to your life, prior to the pain, prior to being hindered, prior to anything other than your healthy best. Use of StealthStation™ Surgical Navigation and O-arm™; plus other minimally invasive procedures provide a faster recovery time, smaller incisions, with pinpoint accuracy.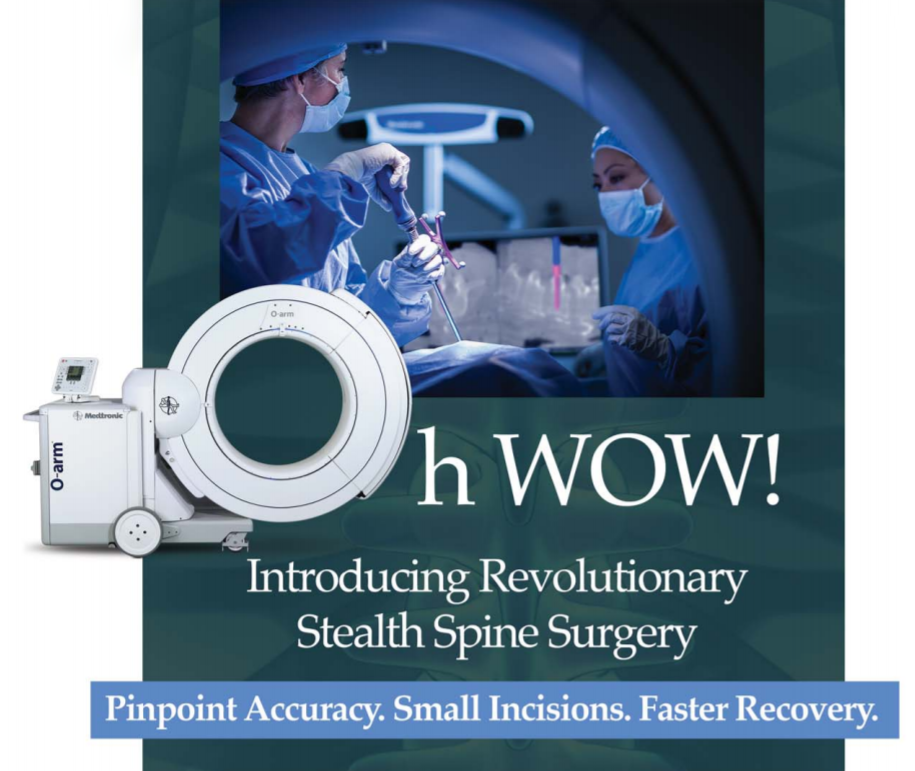 Revolutionary StealthStation Navigation and O-arm Technologies for Spine Surgery
Taking care of you and your family is our top priority. Everyday our professionals at PMC focus on enhancing patient care and satisfaction.
That's why our operating rooms include cutting edge navigation and imaging equipment, including the StealthStation and O-arm Systems. The O-arm System creates detailed 2 and 3 dimensional images, which provide our surgeons with more specific information during surgery.
Minimally Invasive Spine Surgery at PMC
Pinpoint Accuracy. Small Incisions. Faster Recovery.
An animation of the steps involved in using the Revolutionary O-Arm Technologies for patients.
Neck or back pain and can make everyday activities and life painful. You are not alone. Eight out of ten people experience back pain at some point in their lives.
At PMC, our highly trained and skilled spine experts are ready to help you get back to living your life.
Revolutionary Technologies for Minimally Invasive Neck and Back Pain Relief
Conditions
Acute & Chronic Back and Neck Pain
Adult Scoliosis
Compression Fractures
Degenerative Disc Disease
Degenerative Joint Diseases of the Spine
Failed Back Surgery
Herniated Discs in the Neck
Herniated Discs in the Back
Lumbar Disk Herniation
Pinched Nerves/Numbness of Arms & Legs
Sacro-Illiac Joint Disease (SI Joint Pain)
Sciatica
Spinal Deformities
Spine Injuries
Spinal Stenosis
Scoliosis
Spinal Cord Tumor
Syringomyelia
Spinal Metastases
Spinal Cysts
Spinal Kyphosis
Spinal Infection
Spinal Osteomyelitis
Spinal Abscess
Postlaminectomy Syndrome
Kyphosis
Treatment of the Aging Spine

Procedures
Anterior Lumbar Interbody Fusion (ALIF)
Artificial Disk
Axial Lumbar Interbody Fusion (AxiaLIF®)
Cervical Arthroplasty
Discectomy
Foraminotomy
Kyphoplasty
Laminectomy
Microdiscectomy
Minimally Invasive Spine Surgery
Neuroendoscopic Microdiscectomy
Spinal Endoscopy
Radiofrequency Ablation
Revision Spinal Surgery
Spinal Injections
Spinal Cord Stimulator
Spinal Cord Stimulator Implant
Spinal Decompression
Spinal Fusion
Transforaminal Lumbar Interbody Fusion (TLIF)
Lateral Lumbar Interbody Fusion (XLIF)

Click to View More Information:
Adolescent Scoliosis
Adult Degen Scoliosis
Degenerative Disc Disease
Herniated Disc
Lumbar Laminectomy
Myelopathy
Osteoporosis
Spinal Anatomy
Spinal Stenosis
Spondylolisthesis
PMC Spine Specialists
Choosing the right physician is the most important decision. You need a surgeon who listens, understands and offers the best alternatives for your specific medical condition.
Open surgery vs. minimally invasive surgery
Traditionally, spine surgery is usually performed as open surgery. This entails opening the operative site with a long incision so the surgeon can view and access the spinal anatomy. However, technology has advanced to the point where more spine conditions can be treated with minimally invasive techniques.
Because minimally invasive spine surgery (MISS), does not involve long incisions, open manipulation of the muscles and tissue surrounding the spine is avoided, therefore, leading to shorter operative time. In general, reducing intraoperative (during surgery) manipulation of soft tissues results in less postoperative pain and a faster recovery.
Am I a Possible Candidate for Spine Surgery?
Still in Pain after extended nonsurgical or conservative treatment? You may need to consider spine surgery as a treatment for back pain. You may also need to consider surgery if you answer "yes" to any of these questions:
Do you lean over the grocery cart for support while shopping?
Do you have pain in your back or tingling and numbness in your extremities?
Have you tried nonsurgical treatments such as massage therapy, yoga, acupuncture or chiropractic care without relief?
Has your physician recommended back surgery?

Get Your Life Back.
Contact one of our spine specialists today.